Translating David Foster Wallace into French.
An interview with Charles Recoursé
-Ariane Mak
Charles Recoursé is a very prolific translator of Wallace's books. The Broom of the System (La Fonction du balai), The Girl with Curious Hair (La Fille aux cheveux étranges),
The Pale King (Le Roi pâle) and "This is Water" (C'est de l'eau) have all been translated into French thanks to him. And his translation of David Lipsky's conversations with Wallace Although of course you end up becoming yourself (Même si, en fin de compte, on devient évidemment soi-même) was released earlier this year. All of them have been published by Au Diable Vauvert editions, where Charles was an editor and translator for several years, before turning to full time translation.
The supposedly quiet Parisian bar I had chosen to conduct this interview, proved to be not so quiet after all. Many thanks therefore to Charles for kindly answering the following questions amid Bob Marley tunes and a loud football game.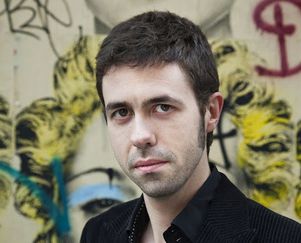 Charles Recoursé [via Overblog]

Ariane Mak: Charles, you have translated many of David Foster Wallace's books into French. Could you tell us what led you to translation in general and to the translation of DFW in particular?

Charles Recoursé: Well the first two translators were Julie and Jean-René Etienne who did a great job translating Brief Interviews with Hideous Men (Brefs entretiens avec des hommes hideux) and A supposedly Fun thing I'll Never Do Again (Un truc soi-disant super auquel on ne me reprendra pas). Their work has proved very useful to me, especially to have an idea of what I was in for before I started translating The Broom of the System (La Fonction du balai). About what led me to translate DFW, well it started when I was doing a master's degree in political sciences in Rennes, in Brittany. It was a time when I basically stayed home, reading books and smoking joints all day! One afternoon, I asked myself what I was going to do with my life. And as I was constantly reading books, I thought – somewhat naively perhaps as I had no idea how to go about it - I might become an editor. So I applied for internships with three publishing houses. I did an internship at Payot & Rivages (the Rivages/Noir collection, French home of James Ellroy, Donald Westlake, James Lee Burke, Dennis Lehane and many more) then at Au Diable Vauvert, where amongst other tasks I proofread translations, which I quite enjoyed. I became assistant editor then editor at Au Diable Vauvert. I was sharing an office with Laura Derajinsky, who is also a brilliant translator, and one day I saw Simon Reynolds' Bring the Noise on her desk. I knew his book well because this was right in the middle of a post-punk, new wave, cold wave, post wave, whatever-you-can-think of-wave revival and the French translation of Rip It Up and Start Again had just been published. I offered to try to translate it and my first trials were accepted so I started translating Simon Reynolds' Bring the Noise – this was in early 2008.

This translation was to be interrupted. I went with the Diable Vauvert team to the "Fête de l'Huma", a large French festival, where we had a bookstand. I remember an evening we had packed everything up and were smoking cigarettes with Marion Mazauric, the boss and publisher. She checked her emails and her face suddenly changed. She had received an email from Wallace's agent announcing his suicide. This was September 12th 2008. This came as a total shock. Wallace was 46 at the time, we had thought we had time to translate and publish his works. In France the two first Wallace translations had received a very enthusiastic reception from the press in 2005, but the French publishing market isn't used to short stories and nonfiction collections so only 500 or 600 copies of them had been sold. And Au Diable Vauvert, being an independent publishing house which hadn't had many best sellers yet, couldn't pay 10 000 • to translate a book which would bring in only 3 000 •. We realized that with Wallace's death, if we wanted him to find the readers he deserved we shouldn't wait to translate him. So we decided that the French translation of the Broom of the System would need to be published the following September. Marion Mazauric told me "Listen, I know you're able to switch between slang and a more classic kind of writing. I want you to be in charge of the translation." I wasn't sure if I was up to the challenge but you only live once and it's the kind of offer one can't refuse. So I put the translation of Bring the Noise on hold and started translating The Broom of the System.